What does SNP success mean for Plaid at Westminster?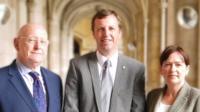 While the Labour and the Liberal Democrat leadership elections continue, Plaid Cymru have announced their new leader at Westminster.
It's Jonathan Edwards, the MP for Carmarthen East and Dinefwr. He replaces Elfyn Llwyd, who stood down at the election.
It had been expected that Mr Llwyd would be replaced by Arfon MP Hywel Williams, but he decided to pass on the opportunity for family reasons.
Mr Edwards had previously been resistant to the idea in case it cramped his political style but has now been persuaded to take the leadership path.
He has identified three themes for the next five years at Westminster: "The Human Rights Act, a European Referendum and the political autonomy of the nations within the British state will be some of the defining issues of this Parliament. They have the ingredients to ignite major constitutional battles and will undoubtedly impact upon the daily lives of our people, our businesses and our communities."
Read full article What does SNP success mean for Plaid at Westminster?