The Lords, the Barnett formula and 'Einion the Traitor'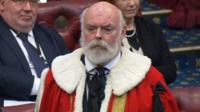 Students of the Barnett formula will be relieved that it is back on the agenda at Westminster. The formula, funding for Wales and devolution featured prominently during Monday's House of Lords debate in the Queen's Speech.
New Scotland Office Minister Lord Dunlop, in his maiden speech, updated peers on the UK government's plans for further devolution.
"For Wales, we are committed to implementing the St David's Day agreement in full. A Wales bill will be introduced later in this Session. It will provide a new, reserved-powers model for Welsh devolution to help clarify the assembly's powers.
"It will devolve additional powers in areas such as transport, energy, the environment and local government, and enable the assembly to decide how it organises itself and its elections and regulates its own proceedings. The bill provides a robust package that will make the Welsh devolution settlement clear, sustainable and stable for the future."
Before his elevation to the Lords, Andrew Dunlop was a special adviser in Downing Street and well-placed to understand the confusion between the Conservatives' UK manifesto and their Welsh one. Indeed, a Conservative source suggested he was involved in the writing of the passage in the UK document that implied "fair funding" for Wales would be dependent on the Welsh government holding a referendum to acquire income-tax powers.
Read full article The Lords, the Barnett formula and 'Einion the Traitor'