Modi braves the 'Chinese whirlwind'
14 May 2015

From the section

China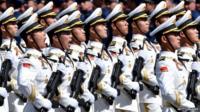 Indian Prime Minister Narendra Modi arrives in China at a moment when his hosts' ambitious plan to redraw the map of Asia is gathering momentum.
China's Foreign Minister Wang Yi calls it a "Chinese whirlwind" in the world, and President Xi Jinping talks of an "Asia-Pacific dream" to set alongside the "Chinese dream of rejuvenation".
Beijing's shorthand for this regional effort is "comprehensive connectivity".
It means using investment, commerce, diplomacy and finance to create a Sinocentric network of Asian infrastructure and institutions, with each policy lever enhancing the next to bind the region firmly into a Chinese embrace.
A waking China "is a peaceful, amiable and civilised lion", says President Xi. But who goes into the lion's enclosure without armour?