Scottish Labour manifesto: Cupcakes and tax pledges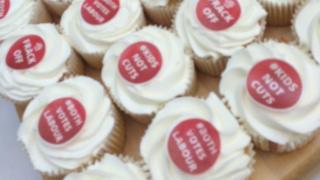 Nuanced it was not. Subtle? Behave yourself. Then again, we are but a week and a day from polling.
This has been a fairly blunt campaign from the outset - a fundamental series of choices on tax and spending. Labour's manifesto launch, then, was of a piece.
Indeed, in the ante-room prior to the launch itself, Labour even had cupcakes on display bearing bold legends relating to their core policy offer of increased taxation to fund sustained public spending, notably on education.
Labour has struggled somewhat of late in Scotland. And so it was perhaps understandable that there were references throughout Kezia Dugdale's speech to matters past.
Lowest paid
She talked, successively, of the foundation of the NHS, the creation of the minimum wage and the establishment of Scotland's devolved Parliament.
Read full article Scottish Labour manifesto: Cupcakes and tax pledges