Growing calls for federal UK in wake of Brexit vote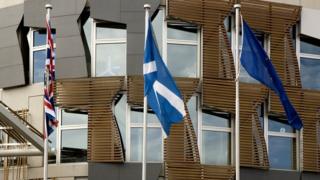 For years, nay decades, it was a topic only touched, if at all, by eager Liberals at party conferences. If not actually shod in sandals at the time, you could tell they were yearning to return to their favoured footwear, when convenient.
The topic? Federalism, of course. It has been on Liberal (and now Lib Dem) stocks for so long, it has tended to suffer a little from benign neglect. Like much-loved socks stuffed at the back of a drawer.
Liberals were sincere, of course. They meant it. They advocated federalism. But, occasionally, one was left with the impression they had not fully thought through the consequences for disparate governance in these islands.
They believed in federalism. They had always believed in federalism. QED.
But now? Why, federalism is the topic du jour or, more precisely, de la semaine. Only this week, not one but two senior politicians from Scotland have advanced its merits.
Read full article Growing calls for federal UK in wake of Brexit vote