Straight questions and a love of obscure lyrics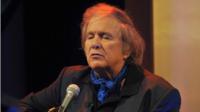 When Don McLean was asked to give the meaning of his song, American Pie, he is said to have replied: "It means that I never have to work again if I don't want to."
I have always had a fondness for slightly obscure or challenging lyrics. American Pie, Stairway, early Pink Floyd, Velvet Underground, pretty much anything by The Doors.
And Hotel California by The Eagles. Particularly that reference to "pink champagne on ice". There is something about that image, concomitantly luxurious and sordid.
Today at Holyrood the thought returned. No, silly, our MSPs are neither luxurious nor sordid. At least, not on weekdays. I refer to the phrase "pink champagne on ice".
As the temperature rose, exuberant Labour backbenchers took to calling out for Alex Salmond.
Read full article Straight questions and a love of obscure lyrics