Fishing for answers at FMQs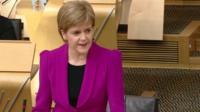 Nicola Sturgeon seemed a mite disconcerted at Holyrood today. Only for a moment, mind, and not during any of her exchanges with opposition leaders.
To be clear, those conversations were robust enough. Decidedly so, in fact. Serious scrutiny on serious topics: exams, child care and police operations.
But Nicola Sturgeon dealt efficiently with each. Not to the satisfaction of her rivals, of course. Such is not given in this troubled world. But effectively. No, her tricky moment came when Jamie McGrigor asked about fish.
Now, aside from being a renowned folk singer, the bold McGrigor is also an expert on matters marine. They don't call him the Nephrops King for nothing. Actually, they don't…..but you get the point.
He was evidently exasperated by, as I understood it, the Scottish government's failure to implement an EU directive involving cash support for skippers with relation to the storing of unsellable catches.