First Minister's Questions: The art of the sedentary intervention
8 October 2015

From the section

Scotland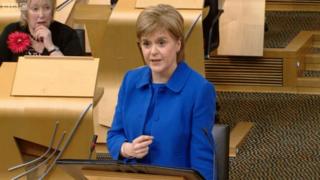 There was much resort at Holyrood today to the practice known as sedentary intervention. This can range from vitriolic, crimson-faced heckling to taut one-liners, delivered sotto voce.
Winston Churchill, of course, was the master of the latter. In his dog days, out of government, he would sit on the front bench of the Commons, immediately below the gangway. (The position occupied, in later times and on different sides, by Edward Heath and Dennis Skinner.)
It was his habit to lean back, seemingly less than attentive. One aggrieved opponent inquired: "Must you sleep when I am speaking?" Without stirring, Churchill delivered the laconic reply: "No, it is entirely voluntary."
In any event, whether it is the droll put-down or the scarlet rant, those in the chair tend to be agin sedentary interventions. Up with them they will not put.
So it was with Tricia Marwick, the presiding officer today. But, wisely, she varied her tone to reflect the relative severity of the offence.
Read full article First Minister's Questions: The art of the sedentary intervention