Election 2015: Sturgeon's evangelical message to people of UK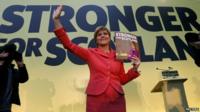 It would have been easy, so easy, for the SNP manifesto launch to slide towards bombast. The elements were all there.
The polls suggest a substantial lead for the Nationalists. The venue was, literally, cavernous and crowded with eager supporters - who were ready to cheer volubly at any mention of independence, Scotland or indeed Nicola Sturgeon.
Sheffield, anyone? Not a chance. After eight years in devolved government, Ms Sturgeon is nothing if not cautious. Her mood was cool, serious and controlled, with elements of self-effacing humour.
When inviting questions from the wicked media, she even cautioned her more zealous supporters against jeering if they felt a little aggrieved by the tone of the inquiries. We were, she said mildly, only doing our job.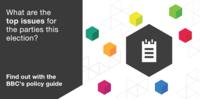 Read full article Election 2015: Sturgeon's evangelical message to people of UK