Inclusion and independence: Nicola Sturgeon's conference speech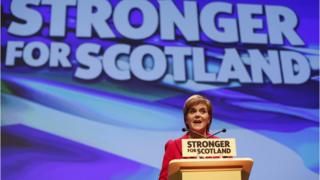 There are moments which try the soul. One such, as I recall, was discussed recently in the estimable Herald Diary. The topic in question was a football match.
The scene envisaged was the stand at a home match involving Borussia Munchen Gladbach. All is going grand until some particularly enthusiastic fan opens up with a chant of "Give us a B….."
Nicola Sturgeon essayed a very different version of that challenge today when she advised delegates that the big theme of her speech was a word beginning with I.
No, not that one, she swiftly told the packed hall. The word she had in mind was "inclusion". Ms Sturgeon then deftly contrived to deploy that word in a range of ways.
Firstly, she sought to contrast the Scottish government and Scotland with what she characterised as the emerging xenophobia of the UK Conservative administration. It is a dichotomy which sundry speakers - including the FM in her Thursday address - have sought to project. It is, needless to say, challenged by said UKG.
Close to tears
Read full article Inclusion and independence: Nicola Sturgeon's conference speech