FMQs: making a spectacle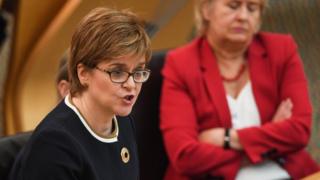 Questions to the first minister frequently provide a spectacle for the viewing public. Contrary to opinion in some quarters, that is not their sole or even prime purpose.
Today the fascination lay in spectacles. Plural. When I was at school in the great and noble city of Dundee, we called specs "owls". Contact lenses were "secret owls".
I cannot for the life of me think why I shared that with you. But there it is. Plainly, I am well into my anecdotage.
Anyway, moving on, the FM resorted to owls at key moments today. Notably, when she was in sombre exchanges with Labour's Alex Rowley.
By contrast, Nicola Sturgeon opted to face Ruth Davidson of the Tories unadorned, visually shorn. The difference derived from the nature of the discourse.