Holyrood responds to terror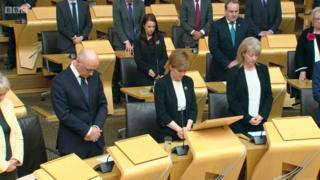 Joy. It is, decidedly, a curious word to hear in such a tragic environment. But it was repeated at Holryood today, as MSPs responded to yet another atrocity.
What possible salience could that word possess? What relevance in the midst of tears, pain, sorrow, sympathy and anger?
Listening to the exchanges, I heard it used twice. Both effective, both powerful. Labour's Kezia Dugdale summoned up an image of young girls preparing for the Manchester concert. "Dressed in pink, in sparkles, bunny ears perched on their heads and grins on their faces". Hastening to the gig, thrilling to the music was, she said, "a moment of sheer joy".
A moment brutally extinguished.
And Willie Rennie of the Liberal Democrats. Our response to that brutality, he said, must involve joy. "Hope, joy and fellowship". Otherwise, he argued, terrorism prevailed.