Time to speak at FMQs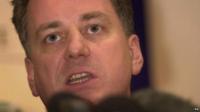 As I recall, one of the finest contributions to Scottish Parliamentary discourse came from the former First Minister Jack, now Lord, McConnell.
His answer to a question in the chamber - the old one up the hill, that is, not the new one - was slowly approximating to a conclusion.
You could see Mr McConnell concluding that he had troubled the chamber long enough on the particular topic, whose details I forget. He told MSPs: "I'm haverin' so I'll sit down." And he did.
As a statement, it struck me as perfect. Innately truthful, notably concise - and eminently inclusive, in that he cleared the floor for others to intervene.
If only, I thought at the time, more politicians would follow this admirable example. It would seem that I am not alone in sharing that view, as witness sundry noises off during the latest round of questions to the First Minister at Holyrood.