Education report card makes grim reading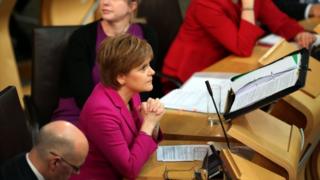 In theatre and politics, atmosphere is all. In both scenarios, said atmosphere is commonly amplified by the onlookers.
In Greek drama, the chorus keep us right. Turn to Bertolt Brecht and such action as there is will be regularly interrupted by a dose of distancing didacticism. In panto, the comic lead will ruin the villain's big scene with a deftly burst balloon.
Today, during questions to the first minister, the tone was set by her deputy. Boy, did he look glum.
Now, John Swinney is a thoroughly affable individual. Customarily, his role in FMQs is either to lampoon opponents with mischievous sedentary banter or to chuckle with delight at a particularly witty put-down, delivered by his colleague. Thigh-slapping is not excluded.
Today he looked sombre and grim, at least during the opening exchanges. And with good reason. Nicola Sturgeon was under attack over the latest dismal report card on Scottish education.