FMQs: Solemn exchanges on a grave topic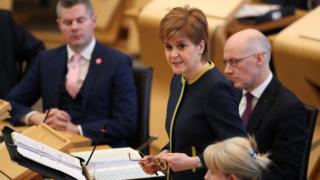 A solemn and purposeful session of questions to the first minister, not least because the opening topic was so brutally grave.
Ruth Davidson raised the subject of Robbie McIntosh, a convicted killer who tried to kill a Dundee woman while on home leave from prison.
Describing the case as appalling, the Conservative leader urged a review of such leave provisions. She pursued her case with passion, vigour and determination.
Ms Davidson told the chamber: "Why is a killer let loose to try to kill again? Why are the dice loaded against victims and in favour of criminals again? Why do we only act when another family is left to pick up the pieces of their lives?"
Self-evidently, this was a challenging moment for the first minister. She could not simply rebut the appeal from Ms Davidson. She knew, she knew that the victim's family in this individual case required more, required better.