First Minister's Questions: On the road to indyref two?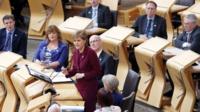 Labour's Kezia Dugdale adopted a novel approach in questioning the First Minister. One which dispensed with customary niceties. You know, waiting for the reply before pouncing with the supplementary. That sort of thing.
Adopting a mock-weary tone - actually, given these challenging times, it could have been the real thing. Anyway, adopting a tone, she described the normal run of events in the chamber at Holyrood.
She would ask a question - say about an independence referendum. The FM would duck it. Ms Dugdale would then persist - only to be met with the assertion that the people would decide.
Pleading for a shortcut, she urged the First Minister to tell the chamber - and also that wise and sensible portion of the nation watching with me on the BBC - whether the SNP planned an early rerun of the plebiscite or not.
Nicola Sturgeon sympathised, very briefly. She noted that Ms Dugdale was describing a democratic process but could understand if Labour were mildly chagrined by such matters, having seen the opinion polls.
Read full article First Minister's Questions: On the road to indyref two?