Stumbling block for the Scotland Bill
20 November 2015

From the section

Scotland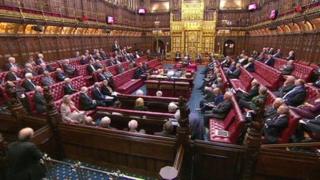 Their noble Lordships are notably unhappy with the Scotland Bill. They want it put on hold until they get answers to a few minor matters. You know, wee things like the entirety of the Scottish budget for the foreseeable future.
So will there be a delay to the implementation of the bill? Yes, but perhaps not directly as a consequence of their Lordships' warning.
Rather, the problem is that the accompanying Fiscal Framework - who funds what and how - is still lodged in discussions between the Scottish and UK governments. No deal on money, no finality for the bill.
Specifically, the Scottish Parliament will not sign off on the Scotland Bill until John Swinney says he is happy with the accompanying cash package. And, right now, he is - like their Lordships - less than content.
But this is a Westminster bill. Why does it matter what Holyrood says? It matters because of the agreement that Holyrood has to signal consent before Westminster legislates on such issues.