'An honest difference of opinion' over air strikes
1 December 2015

From the section

Scotland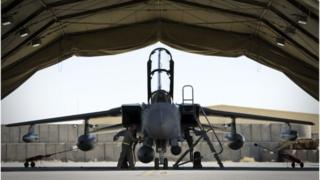 The substantive issue could scarcely be more serious; potential UK involvement in air strikes against Syria in an effort to countermand a global terrorist threat.
At the same time, the first minister's tone was intriguing as she confirmed, in a news conference at Bute House, that the SNP will vote against a proposed incursion by the RAF into Syria when the Commons debates the issue tomorrow.
I questioned Nicola Sturgeon as to whether there was ever any serious doubt that the SNP would be in the No lobby of the Commons when the vote was taken.
In response, she went out of her way to emphasise that this was a carefully weighed decision, preceded by detailed thought and discussion.
'Pragmatic calculation'
Her tone eschewed political rhetoric. Indeed, she praised the prime minister's efforts to attempt to convince sceptics, indicating that he had made progress in that direction. She summed up the position as "an honest difference of opinion."
Read full article 'An honest difference of opinion' over air strikes