Charles Kennedy: A political contact and a chum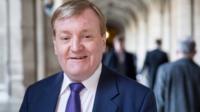 Anecdotes and wry observations spilled from Charles Kennedy. He had an acute intelligence and a thoroughgoing comprehension of contemporary politics. But his style was frequently conversational and companionable, rather than didactic or driven.
At the recent Scottish conference of his party, he shared a few yarns in a vintage performance. He recalled the period when he was nearing the end of his career at Glasgow University.
His tutor, apparently, was a mite apprehensive. Young Kennedy was a notably bright chap - but what was he going to do with his ability? Kennedy Jr suggested he might fancy academica or - if all else failed - he could try politics.
Only a very short time later, he did indeed try politics, standing in a Highland seat against an established and respected Conservative Government Minister, Hamish Gray. To general surprise, Charles Kennedy succeeded, taking the seat at the age of 23.
The response from his erstwhile tutor? He wrote a letter of congratulations, opening along the lines of: "I presume all else failed……"
Read full article Charles Kennedy: A political contact and a chum