US election 2016: Trump settles scores in 'thank-you' event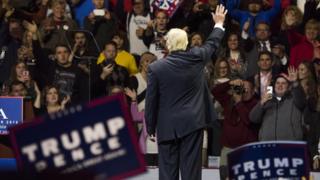 This was billed as the first stop on President-elect's Donald Trump's "thank you" tour of states he flipped from Democrat to Republican in the 2016 election.
It ended up being more like an extended end-zone dance, an "in your face" primal scream at all his critics and naysayers.
He boasted about how he shattered Hillary Clinton's perceived strangle-hold on the Electoral College.
"That blue wall is busted up," he said. "I'll never forget it because it felt so good."
When he remarked about how much fun he had "fighting" his Democratic opponent, the crowd responded with "lock her up!" chants, just like old times.
Read full article US election 2016: Trump settles scores in 'thank-you' event