Mogadishu's Lido beach: Sun, surf and... grenades?
22 May 2015

From the section

Africa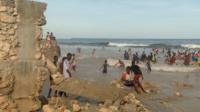 Abdullah Mohammed Hassan climbed down from his perch, and strolled purposefully into the sea to rescue yet another bather who appeared to be struggling against big waves and a rocky, barbed-wire-infested shoreline at Lido beach, on the northern edge of the Somali capital, Mogadishu.
"We save people here every day," said the 46-year-old policeman - managing to sound both proud and chiding and the same time.
Mr Hassan has now spent three years assigned to the lifeguard unit that patrols the beach.
At high tide on a recent Friday afternoon, thousands of mostly young Somalis were playing in the surf - a scene of cheerful relaxation that would have been unimaginable just a few years ago in a city notorious for its decades of anarchy, famine and violence.
"This place is bangin'! Beautiful!" said an exuberant 21-year-old named Hassan Mohammed.
Read full article Mogadishu's Lido beach: Sun, surf and... grenades?