Nigel Dodds sets out DUP's demands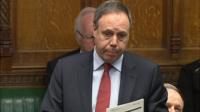 The Westminster leader of Northern Ireland's Democratic Unionist Party has said an Ed Miliband government would have to offer a European referendum in exchange for the support of DUP MPs in the event of a hung parliament.
He also indicated the DUP rules out any coalition involving the SNP.
As election forecasts continue to indicate the next election may produce another hung parliament, this time requiring not just two parties to provide a Commons majority but possibly three, Nigel Dodds set out the party's thinking on the prospect.
He told BBC Newsnight the party "potentially has a very strong hand".
The DUP is currently the fourth largest in the Commons with eight seats.