McDonald's sales growth disappoints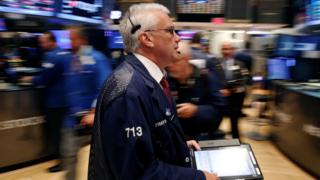 (Open): Wall Street markets opened flat while shares in McDonalds slid after the fast-food giant reported weaker-than-expected sales growth in the US.
McDonald's shares fell 3.25% after it said second-quarter sales at US restaurants open at least 13 months rose 1.8%, below analysts' forecasts.
The burger giant also said it faced "a challenging environment in several key markets".
Despite the hit to McDonald's, the Dow Jones rose 7.09 points to 18,500.15.
Commenting on McDonald's results, Neil Saunders, of retail research firm Conlumino, said: "There is no doubt that in the US the market as a whole was weak across the reporting period, with lower growth in consumer expenditure on fast food and casual dining."
However, he added: "Despite the slowdown the results are not disastrous: they remain in positive territory and show that the changes McDonald's has made continue to gain favour with customers."
Among the other US shares indexes, the broader S&P 500 added 3 points to 2,171.48, while the Nasdaq climbed 5.35 points to 5,102.97.
In a busy week for company earnings, Apple and Twitter are scheduled to report results after the close of trading.
The Federal Reserve also begins its latest two-day policy meeting on Tuesday. Investors will be looking for any clues as to the timing of interest rate changes when the Fed issues its statement on Wednesday.