Wall Street closes up as S&P 500 hits new record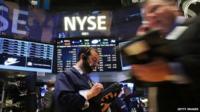 (Close): The S&P 500 rose to a new record following strong earnings from Best Buy and news that CVS Health is buying Omnicare for $12.7bn.
The index rose 4.97 points to 2,130.82, a little less than two points above Monday's record.
The Dow Jones was essentially flat, ending up 0.34 point at 18,285.74. The Nasdaq rose 19.05 points to 5,090.79.
CVS rose 2.3%, and Omnicare was up 1.7%. Hewlett-Packard rose 2.3% after a partial sale of a China-based division.
Apple finished 1% higher after Morgan Stanley raised its estimates for iPhone and Apple watch sales.
And Amazon gained 1.8% on news that Morgan Stanley raised its profit forecasts, citing improved efficiencies at the online retailer.