US markets dented by poor US trade data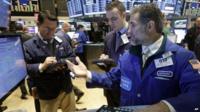 (Open): Wall Street opened lower after trade figures showed the US deficit jumped sharply in March, suggesting weaker economic growth.
The deficit, at $51.4bn, was at its highest in more than six years.
The Dow Jones was down 32.13 points at 18,038.27, while the S&P 500 was down 5.69 points at 2,108.8 and the technology-focused Nasdaq index fell 34 points to 4,982.92.
Disney was unchanged despite quarterly earnings coming in above estimates.
Cosmetics giant Estee Lauder was up 5.3% after its better-than-expected profits.
Tesla Motors shares added another 1.6% to Monday's gains after a broker upgrade.