Markets
FTSE 100
As of 13:37 23 February 2018 - Market open
index value

7243.86
index change:

-8.53
index change percentage: down

-0.12%
Open

7252.39
Previous close

7252.39
52 week high

7778.64
52 week low

7092.43
All market data carried by BBC News is provided by Digital Look. The data is for your general information and enjoy indicative status only. Neither the BBC nor Digital Look accept any responsibility for their accuracy or for any use to which they may be put. All share prices and market indexes delayed at least 15 minutes, NYSE 20 minutes.
Previous close
Latest updates
London Market Reports
Today 23.02.2018
12:04
FTSE down 0.15% at noon
Let's have another look at the markets. The FTSE is down 0.15% at midday at 7,241.83. That's a drop of 10.56 points on the day.
British Airways owner IAG is the biggest loser, down 4.79%, while state-owned bank RBS is close behind, dropping 4.11%.
On the upside, BT has climbed 4.5% while Standard Life Aberdeen - which has flogged its insurance business for £3.2bn - is up 2.88%.
11:03
RBS shares fall despite profit news
Shares in RBS have plunged 4.51% or 12.7 points to 269.29p, despite the bank announcing its first annual profit in a decade.
Although RBS is in the black, analysts don't favour the UK government selling off its stake in the bank.
"There is a real risk that the privatisation of RBS will result in another colossal rip-off to the taxpayer," Fran Boait, executive director of charity Positive Money said.
"The government now has a choice. It can either go ahead with plans to sell off most of our shares in RBS over the next year, at an estimated loss of £26.2bn, or it could hold onto the 71% stake and use the profits to fund vital services."
10:37
RBS not out of the woods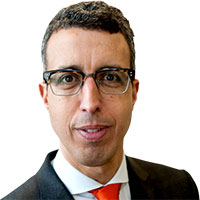 Kamal Ahmed
Economics editor
After nine years when accumulated losses totalled £58bn – today a symbolic profit for RBS.
Does it mean the government can start planning more confidently about selling the 71% stake it holds on behalf of the taxpayer?
The fact the share price went down this morning by nearly 5% suggests not.
Investors are still nervous about the multi-billion pound fine the bank is expecting from the US.
At 269p, the RBS share price is still a long way below the 502p a share the government would need to break even on the billions of pounds it spent bailing out the bank a decade ago.
It has already sold some of its stake at a loss – and will have to continue on that path for a long period yet, in the hope that eventually the share price will rise above that 502p and, overall, a profit can be made.
Ross McEwan told me it would take three to five years before the government would have a "much smaller" level of ownership.
Selling the taxpayers' stake in RBS has proved a much tougher and longer process than anyone imagined a decade ago.
08:02
FTSE opens up 0.11%
The FTSE 100 has opened the day positively, up 0.11% on opening at 7,260.54.
Yesterday the FTSE fell 0.4% or 29.18 points.
Yesterday 22.02.2018
11:09
Market update: BAT and Anglo American biggest losers
A quick look at the market: the FTSE 100 remains down around 1% today, hit by disappointing results, big stocks going ex-dividend and concerns over rising bond yields.
Shares in British American Tobacco were the biggest fallers, down around 4.5% after the cigarette maker reported weaker-than-expected sales growth for 2017.
Likewise miner Anglo American was down 3% following its full year update after analysts pointed out that Anglo's had risen 16% in 2018 ahead of the announcement,
Elsewhere mid cap Moneysupermarket plummeted 18% after its guidance disappointed investors, with the firm pointing to costs around a new strategy.
10:04
Moneysupermarket shares slump 24%
Shares in price comparison site Moneysupermarket have fallen by more than 24% after it warned of slower growth in 2018.
It posted a 5.3% rise in pre-tax profits to £96.1m for 2017, but said earnings are expected to be "broadly flat" in 2018 amid a slowdown in its core markets.
The company said it expects one-off transitional costs of £6-9m during this year to cover reorganisation of the business.
Last year the company was fined for sending seven million emails to people who had asked not to receive them.
Meanwhile its 'twerking' advert remains one of the most-complained about campaign with more than 1,000 people taking offence.
08:04
FTSE drops on opening
The FTSE 100 dropped 0.67% to 7,232.86 when it opened this morning. That was a fall of 48.71 points.
Yesterday it ended positively climbing 0.48%, or 34.8 points, by the close of trading.
20.02.2018
10:19
Dunelm shares slump
Furnishings retailer Dunelm's shares have fallen 9.7% or 63 points to 583.5p, on the news that underlying profit fell due to lower margins and higher operating costs.
"Consumer spending is softer of course, but the decline in property market activity is key – the less people move home the less they spend on new furnishings," said Neil Wilson, senior market analyst for ETX Capital.
"Margins are the real worry. Not only is the Worldstores acquisition dragging down the group average, but it was also due to a higher proportion of end of season and seasonal products.
"The concern is that Dunelm is heavily discounting to maintain market share, generating good headline like-for-like sales growth at the expense of profit."
09:30
Market movers
While the FTSE 100 remains flat, down just 0.11%, the big firms publishing figures today have all seen their share prices fall.
InterContinental Hotel Group leads the losers, down 4.47%, while HSBC has fallen 4.33%. Finally there's miner BHP Billiton, down 3.03%.
On the other side Evraz is having another positive day, climbing 3.96%.
08:01
FTSE 100 opens positively
The FTSE 100 began the day's trading at 7,250 up 0.1%, suggesting it could be another quiet day.
Yesterday It fell 0.64% or 47.04 points.
Back to top