FTSE 100 slumps almost 2% by midday
8 February 2016

From the section

Business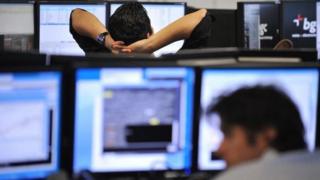 (Noon): London's leading shares were lower at midday as a number of key company shares and other European markets fell.
The FTSE 100 was down 101.45 points at 5,746.61.
Elsewhere in Europe, Germany's Dax was down more than 2% as was France's Cac index.
Miners continued higher, building on some impressive gains last week. Randgold was the best riser on the FTSE following strong results.
Engine maker Rolls-Royce was marked down 2.5% as traders speculated it was on the brink of cutting its dividend. It has issued a series of profit warnings in recent months and is due to release results on Friday.
Global advertising giant WPP was down 3.5% on fears about the outlook for worldwide advertising revenue as economic growth slows.
Broadcaster ITV was down 5.5%.
Chip maker Arm Holdings was down 5% after brokers stated their "neutral" view of the stock.
On the commodities markets, Brent crude turned south, losing 2% to $33.43, while US light crude lost 2.5% to $30.11.
On the currency markets, the pound turned negative after modest gains earlier.
It was down 0.6% against the dollar at $1.4416 and was down 0.28% against the euro at €1.29.63.