Mining stocks and Tesco lead FTSE 100 to six-week high
7 October 2015

From the section

Business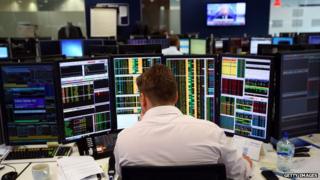 (Close): London's leading FTSE index hit a six-week high, led by mining companies and supermarket giant Tesco.
The FTSE 100 closed up 0.2% at 6,336.3 points, the sixth consecutive daily gain.
Tesco's first-half profits fell by 55% although the supermarket group said the results were higher than forecasts, and better than its rivals.
The shares dived nearly 3% but then recovered to close up 2.5% at 197p.
But mining stocks led the surge with Anglo American rising almost 10%, while Rio Tinto and Antofagasta were up 7.5% and 7.3% respectively.
Investment bank Morgan Stanley upgraded the sector to "attractive" and raised the ratings of Anglo American, Rio Tinto and BHP Billiton.
Shares in brewer SABMiller rose 0.3% after it rejected an improved £42.15 a share offer from Anheuser-Busch InBev, the world's largest brewer.
On Tuesday, SABMiller reported a rise in sales volumes, thanks to growth in Latin America and Africa.
International Airlines Group (IAG) which owns BA and Iberia, and easyJet both fell more than 5% as oil prices rose and Credit Suisse warned investors that higher fuel bills could hold back profits.
On the currency markets, the pound continued to strengthen, rising 0.7% against the dollar to $1.5336 and 0.8% against the euro to €1.3623.