FTSE 100 jumps as Glencore shares rebound
5 October 2015

From the section

Business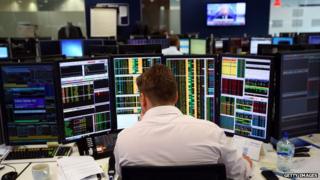 (Open): The market made a strong start to the week, with Glencore up sharply on reports it is planning to sell a stake in its agricultural assets.
The FTSE 100 was up 96.76 points, or 1.6%, at 6,226.74 in early trade, with shares in Glencore jumping 13%.
Earlier, Glencore's Hong Kong-listed shares had jumped as much as 72% on reports it was seeking buyers for its agriculture business.
However, Glencore said it was not aware of any reason for the price movement.
Glencore's shares saw big fluctuations last week following speculation over its financial prospects. The company - along with other mining firms - has been hit hard by the fall in commodity prices, and it is trying to reduce its debts.
Rolls-Royce shares were up 1.5%. The engineering group announced on Monday it was cutting an extra 400 jobs from its marine business.
On the currency markets, the pound was 0.26% higher against the dollar at $1.5220 and it had edged up 0.04% against the euro to €1.3542.