Hitachi pays SEC $19m over SA payments
28 September 2015

From the section

Business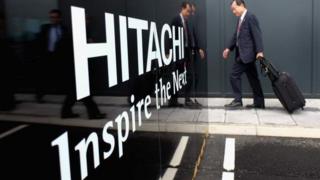 The Japanese firm, Hitachi, has agreed to pay $19m to settle charges by US regulators that it made improper payments to South Africa's governing party, the African National Congress.
The US Securities and Exchange Commission says Hitachi paid millions of dollars to a front company for the ANC to secure contracts to build two power plants.
Hitachi has not admitted the charge.
The contracts became a huge scandal in South Africa five years ago.
Hitachi was accused of selling 25% of its South African subsidiary to a front company for the ANC.
The plan is alleged to have been forged so the two could share profits from the power stations Hitachi was contracted to build.
Hitachi built two stations, paying the ANC front company a total of $6m, of that $1m was improperly documented in Hitachi's books as consulting fees.
The actions were violations of the Foreign Corrupt Practices Act (FCPA), which Hitachi is subject to because it conducts business in the US. Like the UK Bribery Act, the FCPA gives regulators power to enforce anti-bribery measures anywhere in the world if one of the parties conducts business within the US.