Public sector strikes: New date set for second round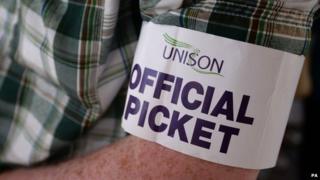 Local government and school support workers in England, Wales and Northern Ireland are to mount a second day of strike action, public service union Unison has said.
The walkout, which is scheduled for 30 September, follows a similar action earlier this month.
Unison urged the Local Government Association to take part in further talks to resolve a pay dispute.
Council services, schools and fire services are expected to be disrupted.
Unison said 90% of local government and school support workers are receiving a 1% pay rise after three years of pay freezes and below inflation pay rises.
'Disgrace'
Unison Scotland has not been involved in the pay dispute and its workers will not be taking part in the industrial action.
Hundreds of thousands of public sector workers including teachers, firefighters and council workers joined the 10 July strike, which closed thousands of schools.
The BBC understands unions are also considering strike action on 13 October ahead of a mass march and rally being organised by the TUC in London on 18 October.
Heather Wakefield, Unison's head of local government, said: "The strike on 10 July sent a strong message to the employers that local government and school support workers are fed up and angry with being exploited.
"It is a disgrace that so many workers and their families are forced to live on poverty pay.
"There was widespread public support for our members, the majority of whom are low paid and part-time women workers whose goodwill has been taken for granted for too long."