UK factory orders 'slow down in July', says CBI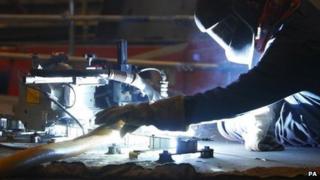 Manufacturing orders for the UK slowed down in July, but still remain robust, a survey by the CBI has suggested.
In total, 2% of UK manufacturers reported an increase in orders, or an above normal level of orders this month, compared with 11% last month.
Just under a sixth of manufacturers saw a fall in export orders in the month.
The numbers complement official UK figures for July, which found a surprise drop in UK factory orders.
On the whole, factory orders and the numbers of people being hired are rising, CBI said.
Nevertheless, risks to economic recovery include "international political instability, and the recent rise in sterling, which could be weighing on exports," CBI deputy director-general Katja Hall said.