M&S finance boss Alan Stewart leaves for Tesco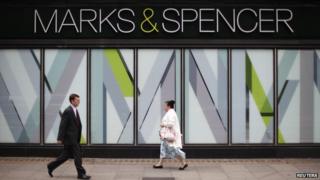 Marks and Spencer's chief financial officer Alan Stewart is to leave the High Street retailer to join supermarket giant Tesco.
Mr Stewart's basic remuneration will jump from £579,000 at M&S to £750,000 at Tesco.
The announcement comes in the week M&S reported its 12th consecutive drop in quarterly sales of general merchandise.
Mr Stewart will work out a six-month notice period, the BBC understands.
On his appointment to Tesco, he will receive share awards worth £1.737m, to make up for deferred share awards from M&S that he will forfeit.
Mr Stewart will join the board of Tesco and is also due to join the board of drinks giant Diageo as a non-executive director in September.
Tesco chief executive Philip Clarke said: "When we set out on this search we wanted a candidate who had the right blend of experience, leadership and values to play a leading role in the transformation of Tesco. We have found all three in Alan."
Before joining M&S, Mr Stewart worked at companies including HSBC and WH Smith.
Both M&S and Tesco have faced retail challenges for a number of years.
M&S chief Mark Bolland said sales in clothing and homewares were "not good enough" earlier this week.
Tesco reported a sharp fall in sales in June and a 6% fall in annual profit in April.
The supermarket giant confirmed in April that its finance director Laurie McIlwee was to step down.
---
Analysis, BBC Business correspondent Emma Simpson:
Losing its finance officer is the last thing that M&S needs right now.
And it comes after a host of management departures over the past few years.
Just last month, Marks and Spencer announced a big reshuffle for its top executive team. It also confirmed that its current international director, Jan Heere, was leaving the business to return to Russia.
The most high profile departure was the former head of clothing, Kate Bostock, who left in 2012.
The other main leavers are Darrell Stein, director of IT, Clem Constantine, director of property, Sara Bradley, head of buying for in-house brands and Mary Wastnage, head of buying for womenswear. Janie Schaffer, the so called "knicker queen" who was recruited from Victoria's Secret, left after just three months.
But it seems that after four years at Marks, Alan Stewart has been tempted by a much bigger job and a £200,000 a year pay rise at Tesco. He obviously likes a challenge. The supermarket will also have to wait six months for him to start.
---