'Ant attack' among sickie stories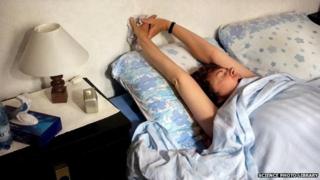 Hangovers are the most common reason for pulling a "sickie" from work, but days off have been claimed for ant attacks and kidnaps, a survey says.
Boredom with work, sporting events and extending the weekend were also common reasons for being absent from work, PricewaterhouseCoopers (PwC) said.
The accountancy firm claimed that £9bn lost to businesses owing to sickies could be avoided.
However, the survey did not take unpaid overtime into account.
There was also no calculation as to whether staff who pulled sickies might work harder when they returned to work.
'Duvet days'
The survey suggested that UK workers took more sick days (genuine or made-up) than those in the US or East Asia, but fewer than people working in central or eastern Europe.
Among the other tall stories for sickies was a claim that a pet dog had eaten an employee's keys, and a male employee claiming he had started the menopause.
PwC said that employers could reduce the sickness bill by offering "duvet days", allowing occasional but authorised late starts.
It said that flexible working should also lower the bill. On Tuesday, the right to request flexible working hours was extended from only carers and those looking after children to all employees.