Nike's marketing costs soar on World Cup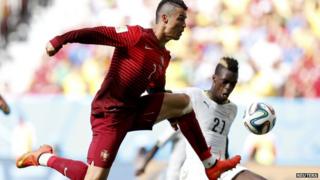 Heavy spending on marketing weighed on Nike's performance in its fourth quarter which ended 31 May.
Spending on marketing soared 36% to $876m (£514m) as Nike boosted promotion ahead of the 2014 Fifa World Cup.
That curbed profits which rose 1% to $698m, compared to the same quarter in 2013.
Between March and May Nike launched a number of new shoes including the Mercurial Superfly, worn by Portugal's Cristiano Ronaldo.
On Thursday, Portugal became one of the latest teams to be knocked out of the World Cup finals.
The outlook appears to be bright for Nike as it said orders for its footwear and sports kit for June to November are $13.3bn - 11% higher than the same period last year.
Nike sales rose 11% in the fourth quarter to $7.4bn.
Nike vs Adidas
For the first time Nike is sponsoring more national teams in the World Cup than rival Adidas.
The German firm has a sponsorship deal with Luis Suarez who has been suspended from all football-related activity for four months for biting Italy defender Giorgio Chiellini.
In addition, the Liverpool player has been banned for nine international matches, ruling him out of the rest of the World Cup.
Adidas said it would not use him for any further promotion around the tournament, but has not changed any other aspects of its deal with the player.
"Adidas fully supports Fifa's decision. Adidas certainly does not condone Luis Suarez's recent behaviour and we will again be reminding him of the high standards we expect from our players," a spokesperson said in an emailed statement.