Home sales aid Crest Nicholson profit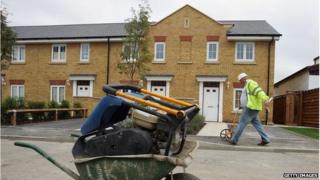 Crest Nicholson, the homebuilder, said profit for the first six months of the year jumped 37%.
Buyer demand is "very strong", said the builder.
The company reported profit before tax of £38.4m as revenue rose 26% to £241.1m.
Crest Nicholson returned to the stock exchange last year after a six-year absence. It builds homes mainly in the south of England.
The firm completed 35% more homes in the period, finishing 1,091 compared with 810 during the same period a year earlier.
First-time buyers have "benefited significantly" from the government's Help to Buy scheme and make up 72% of the sales made by Crest Nicholson under the scheme. Average selling prices under Help to Buy are "comparatively low" at £227,000, said the firm.