Royal Mail warns on competition threat from rivals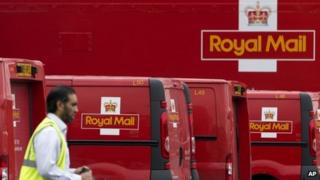 Royal Mail has warned that competition from rivals could threaten the "fundamental economics" that support its six day a week letters delivery service.
Royal Mail is legally required to deliver letters to the whole of the UK under its universal service obligation.
It warned its competitors will be able to "cherry pick" where to provide rival services.
But rival TNT Post UK told the BBC that Royal Mail should "stop whinging".
TNT has launched its own direct letters delivery service in Manchester, London and Liverpool and plans to eventually deliver letters to between 40% and 50% of the UK.
Direct delivery services are commercial services offered by postal businesses and typically include mailings of bank cards, banks statements or insurance documents.
Unlike Royal Mail ,TNT is not bound by the universal service obligation and does not have to deliver letters to the whole of the UK.
Royal Mail said as a result it can "cherry pick " commercial delivery contracts to "easy to serve urban areas". Such competition could lead Royal Mail to suffer a loss of revenue in the region of £200m a year by 2017-18, it added.
BBC Business Editor Kamal Ahmed said Royal Mail had "put a threat to the universal service obligation on the table".
"It will now be complaining to the postal regulator, Ofcom, and demanding "immediate action" to protect the service obligation," he said.
However, the communications regulator rejected Royal Mail's call for a review saying it did not believe there was presently a threat to the financial sustainability of the universal postal service.
"In plain speak, Ofcom seems to believe there is a lot more Royal Mail can do to save costs before it make a serious point about the threat of the competition," explained the BBC's business editor.
And Nick Wells chief executive of TNT Post, told BBC Radio 4's World at One programme: "I think, personally, Royal Mail should stop whinging. They have just delivered some record profits.
"Clearly, TNT Post are trying to create innovation in the postal market. We're delivering choice for our customers and that's good for the market over all, as well as creating jobs."
The warning came as Royal Mail released its first set of financial results since it was privatised in October - with annual operating profits rising to £671m. Overall sales rose to £9.46bn in the year to 30 March, up from £9.15bn a year earlier.
Royal Mail's share price fell 7.5%. or 43.10p lower to 531.9p.
'Adverse financial impact'
The group's chief executive Moya Greene said the company's performance was in line with expectations but she admitted it faces a "couple of headwinds".
She said: "The competitive environment on the parcels side is more intense. We are taking steps to remain the leader in this growing market.
"On the letters side, the headwind is direct delivery and we have strategies in place to counter its adverse financial impact."
Ofcom is already investigating a complaint from TNT over Royal Mail's decision to change conditions and increase the prices it charges to deliver post collected and pre-sorted by its competitors.
Royal Mail believes an investigation into this complaint will lead to a long period of uncertainty around the prices it charges other postal operators.
Ms Greene said: "TNT Post UK can cherry-pick easy-to-serve urban areas, delivering easy-to-handle post to homes less frequently than Royal Mail and to no defined quality standard.
"Royal Mail is required to deliver six days a week, overnight, throughout the whole country, to stringent quality standards and at a uniform, affordable tariff.
"Moreover, we are also required to deliver any items TNT Post UK does not consider economic to deliver itself. If TNT Post UK is successful in delivering its stated objectives, this could threaten the fundamental economics of the universal service."
An Ofcom spokesman said: "Ofcom keeps the market under constant close review, examining the future business plans of major operators. We have a duty to secure the universal service, and if we identify any future threat we have powers to step in to protect it.
"We would expect Royal Mail to take appropriate steps to respond to the challenge posed by competition, including improving efficiency."
Flotation
Royal Mail's parcel delivery service overtook its letters business to become the biggest contributor to revenue for the first time.
Sales in its parcel delivery business rose 7%, although parcel delivery volumes were flat. Letter delivery volumes fell by 4%.
Royal Mail has faced intense competition in its parcel delivery service over the past year as the market has boomed on the back of online shopping.
Its flotation on the London Stock Exchange last autumn was criticised for selling shares in the company too cheaply, as Royal Mail's shares rocketed as much as 87% above the initial share price of 330p in the first few days after it was listed on the stock market.