BSkyB seeks to combine with Sky in Italy and Germany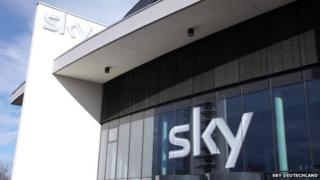 BSkyB has confirmed its interest in buying Sky broadcasting companies in Germany and Italy, which are majority owned by 21st Century Fox.
The company said the move would "have the potential to create a world-class multinational pay-TV group".
21st Century Fox, which is run and majority-owned by Rupert Murdoch, also controls almost 40% of BSkyB.
A statement from 21st Century Fox confirmed the approach, but said no deal had been agreed as yet.
Italian TV company Sky Italia is wholly owned by 21st Century Fox, while 55% of its German counterpart, Sky Deutschland, is owned by the American firm.
A consolidated European Sky company would have approximately 20 million subscribers in total - double the amount BSkyB currently has in the UK.
If the deal goes ahead, BSkyB would have to make a takeover offer to the rest of Sky Deutschland's shareholders.
The merger could be subject to regulatory approval by European authorities.
News Corp bid
A bid by the Murdoch-owned News Corporation - since broken up into two companies, one of which is 21st Century Fox - to take full control of BSkyB was withdrawn in 2011, following a scandal over phone hacking at the company's UK newspaper group.
James Murdoch, who was BSkyB's chief executive at the time, has said previously that the company needs to "resolve" its European pay-TV strategy, and that having three separate firms is "not optimal".
Mr Murdoch now holds an executive position at 21st Century Fox, and is now chairman of both Sky Deutschland and Sky Italia.
Shares in BSkyB fell by more than 2% on news of the potential merger.
Media analyst Claire Enders says the exposure to Sky Italia is a concern for investors, due to the weakness of the pay-TV market in the country.
"The consumption power of the average Italian household is about the same as it was in 2000," she told the BBC.
"One wouldn't cheer wildly at the opportunity to win Sky Italia."
The pay-TV business is being challenged in all markets, Ms Enders added, as online services, both legal and illegal, are increasingly popular.
Analyst also say the valuation of Sky Italia critically depends on whether the company wins the rights to show the top-flight football league, Serie A, next year.
'Preliminary' discussions
In a statement released on Monday, BSkyB said discussions had "not progressed beyond a preliminary stage," and that there was "no certainty" that a transaction would occur.
Rupert Murdoch's 21st Century Fox said "numerous internal discussions" had taken place over the years "regarding the organisational and ownership structure of the European Sky-branded satellite platforms".
"From time to time, these conversations have included BSkyB. However, no agreement between the parties has ever been reached."
Sky Deutschland is currently valued at approximately 5.5bn euros (£4.5bn) and recently reported first-quarter revenues of 421m euros - up 16% on the year before.
The precise value of Sky Italia is unknown, as it is not publicly listed.