Annuity sales down 40%, says Legal and General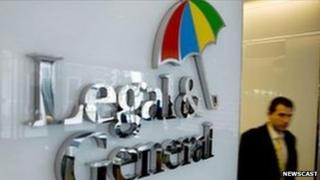 The sale of annuities by insurer Legal and General dropped by 40% in the first quarter of the year amid a shake-up in the pensions system.
Individual annuity sales totalled £244m, compared with £406m in the first three months of last year, it said.
The company also repeated its forecast that the annuity market would shrink to a quarter of its pre-Budget size by the end of 2015.
The Budget included plans to allow people to take a pension pot in cash.
From next year millions of people reaching retirement age will be able to spend their pension pot in any way they want, including cashing in their pension savings in one, taxed, lump sum. Temporary rules are in place in the meantime.
The changes effectively abolishes the requirement for some people to buy an annuity - a retirement income for life.
'New products'
In a trading update, Legal and General said cancellations of newly-bought annuities following announcement of the reforms in March had resulted in a £15m hit.
But its sales of bulk annuities to company pension schemes, which are not affected by the reforms, were offsetting a decline in sales of the products to individuals.
The group's retirement arm saw new business premiums quadruple to £3.3bn following the signing of a £3bn bulk annuity contract with the ICI pension fund in March.
It added that it had been clear for some time that the government favoured a "pro-choice" agenda for pensions.
It said that the company was well-placed to take advantage of the new system in offering a variety of products to new pensioners.
"Our expertise in both investment and longevity management mean we can offer a wide range of new and existing products to customers deciding how to convert savings into retirement income," it said.