UBS profit beats forecasts as unveils restructuring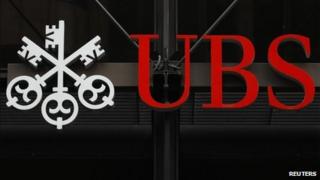 UBS has reported better than expected first quarter results and said it will reorganise its business to ensure it can more easily be broken up in the event of a crisis.
The Swiss bank reported a 6.7% increase in net income to 1.05bn Swiss francs (£708m). That surprised some analysts who were expecting a fall in income.
The bank also said it would also create a new group holding company.
Shareholders will be offered a one-off dividend to swap shares into the group.
UBS said shareholders would receive at least 0.25 Swiss francs per share.
"Our focused business strategy and the quality and strength of our capital, means we are well positioned to execute these plans," said group chief executive officer Sergio Ermotti.
Mr Ermotti said it had already discussed its plans with regulators, and UBS would not be required to raise any additional capital as a result of the changes.
Firewalls
In addition to creating the Swiss subsidiary, it will create a separately capitalised UK business and a holding company for its US operations.
The revamp is aimed at ensuring that a problem in one of its branches will not spread to the remainder, preventing a repeat of the 2008 financial crisis when UBS had to be bailed out by taxpayers after losing over $50bn on US mortgages.
It said it would begin to implement the new structure in the second quarter.
UBS has been trying to increase its profitability after reporting a loss in 2007, 2008, 2009 and 2012.