Over-50s insurer Saga plans £2.2bn stock market listing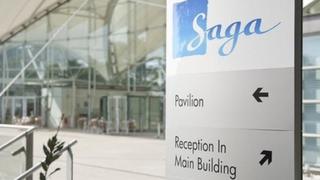 Over-50s insurer and holidays firm Saga has announced plans for a £2.2bn stock market flotation.
The company, also known for one of the UK's best-selling monthly magazines, is aiming to raise £550m from the initial public offering (IPO).
It plans to float at least 25% of the business and use the proceeds to pay down debt.
Saga said retail investors would be eligible for the offer if they applied for at least £1,000 worth of shares.
It is set to be the biggest public share offering since the privatisation of Royal Mail.
"Our customers are at the heart of our brand and I am delighted that they will have an opportunity to become shareholders in the company and to be part of the next stage of our journey," said Saga's executive chairman Andrew Goodsell in a company statement.
Saga, which started 60 years ago as a Kent guesthouse for pensioners, made underlying profits of £222m last year on revenues of £1.1bn.
Retail IPOs
The listing will cut the firm's debt to about £700m, with its private equity owners expected to sell part of their shareholding.
Permira, Charterhouse and CVC paid £6.3bn for Saga, along with the AA, in 2007, with the two firms merging into a new parent holding company, Acromas.
Saga's IPO, which will also offer shares to employees, follows a number of similar announcements from other UK firms in recent weeks.
Discount footwear chain Shoe Zone announced plans to float on Monday, while cafe chain Patisserie Valerie and greetings card retailer Card Factory did the same last week.
Poundland and Pets at Home listed on the market earlier this year.