M&S clothing sales show 'encouraging' signs of recovery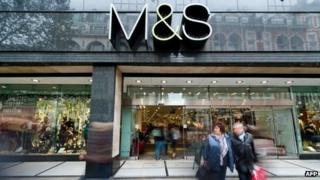 Marks & Spencer's clothing sales have begun to recover, it has said, but sales across its wider non-food division fell for the 11th quarter in a row.
Like-for-like sales fell 0.6% in the three months to the end of March.
But, the retailer said there were signs of "encouraging improvement" in clothing sales, with like-for-like sales up 0.6%.
Analysts had expected non-food sales to fall, but by at least 1%.
Like-for-like figures count sales at stores open for more than a year and strip out sales at stores that have only recently opened in order to give a more accurate comparison.
The 0.6% fall in non-food sales was also an improvement on previous quarters.
In the three months to the end of December, which included Christmas, sales declined 2.1%. Sales in the three months to the end of March 2013 fell by 3.8%.
Food sales rose just 0.1% on the same basis. Online sales were up 12.5%.
M&S was one of the top risers on the FTSE 100 Index following the release of the trading statement. Shares rose 2.13% to 465.7p.
But they later went into reverse falling by 1.5%.
Total sales - which count sales across all stores - were 1.5% higher in the first three months of the year. However, taking out stores open less than a year sales fell 0.2%.
Womenswear boost
M&S hired Belinda Earl, the former chief executive of Debenhams and Jaeger, as head of style in 2012.
Ms Earl was charged with regenerating Marks' reputation among its core, female fashion customers.
The 130-year old retailer launched a new autumn/winter women's fashion range, backed by a large advertising campaign, to boost its flagging clothing sales.
M&S chief executive Marc Bolland, said he was "particularly encouraged by womenswear, which is showing a clear sign of improvement and performed ahead of clothing".
He added customers were responding well to the retailer's "refocus on quality and style" and that its new spring/summer fashion range had also been received well.
Mr Bolland said M&S's food business "outperformed the market once again".
Adjusting for the later timing of Easter this year, M&S said its like-for-like food sales were up 1.8%, with total sales up 4.2%.
It marked the 18th consecutive quarter of growth in the retailer's food division, which came despite heavy discounting as pressure from rivals grew.
'Green shoots'
Most analysts still expect M&S's pre-tax profits to fall 6% to £623m when annual results are published on 20 May.
It will mean M&S will have been overtaken for the first time by rival Next - a relative upstart at 32 years old - which last month announced profits of £695m.
Neil Saunders, managing director of retail analysts Conlumino, said the trading update showed M&S was showing "some green shoots of recovery in its non-food division".
"Although the numbers are not spectacular, and they are set against some soft comparatives, they have at least brought to an end a long run period of decline in the clothing business," he said.
"It is worth noting that although positive, M&S's latest numbers are not high enough for it to have grown its clothing share; by our calculations M&S has underperformed the market during this period and, as such, has continued to cede share."