Ryanair creates 200 jobs at new tech hub in Dublin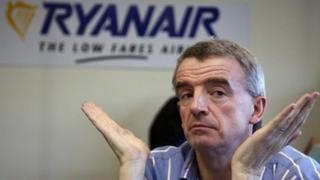 Budget airline Ryanair has announced the creation of 200 new jobs as it also proceeds with a digitally-led customer charm offensive.
The airline will re-launch its website in the middle of April and plans to launch a mobile phone booking app in June.
The jobs will be based at the airline's new technology hub in Dublin.
They come as part of a wider expansion that will see 500 new pilots, engineers and cabin crew recruited in 2014.
New routes
In February Ryanair reported a £34m loss for the last three months of 2013.
And Ryanair passenger numbers fell 200,000 in March to 5.2m, down 4% on the same month a year earlier. It blamed the timing of Easter for the falling passenger numbers.
But the airline also said that it expected total passenger numbers for its financial year ending March 2015 to rise to 84m, from 81m this year.
Ryanair is opening new routes to the Republic of Ireland in 2014, as well as increasing the frequency of fights to more than 30 other routes, and is opening new bases in Lisbon, Athens, Brussels, Rome.
The airline is locked in a tussle with rival Easyjet as both seek to win passengers.
Last month, Easyjet announced plans to create 2,500 new jobs at Gatwick airport and signed a new 10-year deal with Luton airport.
Quieter flights
At the end of last year Ryanair halved its excess baggage fees to 10 euros (£8.20) in an effort to win back customers, as part of a wider charm offensive that it embarked upon last autumn.
Kenny Jacob, chief marketing officer at Ryanair, told BBC 5 live's Wake up to Money programme: "We have a better website, we're letting customers bring a second bag on to the aircraft, and have allocated seating and quieter flights."
But he admitted that controversial boss Michael O'Leary would probably continue to make news.
He said: "Controversy gets you headlines, and headlines get people on to our website and making bookings."
Meanwhile, Easyjet reported passenger numbers were up 4.8% in March compared with a year ago.
But Irish carrier Aer Lingus saw a fall in passenger numbers of 7.1% in March compared with a year earlier.