US shares rise despite Federal Reserve concerns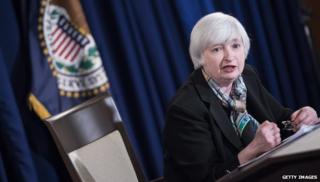 US markets have risen a day after the Federal Reserve hinted it might raise interest rates as soon as 2015.
The Dow Jones Industrial Average rose 0.3% to 16277.13 after several reports pointed to the economy strengthening.
Fed chair Janet Yellen hinted rates could rise six months after the bank ends its bond buying programme - expected to be at the end of 2014.
Her remarks caused a broad sell-off across both US and Asian markets overnight.
Hong Kong's Hang Seng index officially hit "bear" territory earlier, falling by 1% for a cumulative 20% decline since 2 December 2013.
The Nikkei fell 1.65% and the Shanghai Composite dropped 1% as well.
But weekly US jobless claims data released on Thursday showed the numbers filing for jobless benefits rose by less than expected - by some 5,000 to 320,000.
That was only half the filing figure forecast by most economists.
But it was the rebound in the the Philadelphia Fed's manufacturing index to 9.0 in March from minus 6.3 a month earlier that gave investor's most confidence.
Meanwhile, the National Association of Realtors said sales of existing US homes fell by 0.4% last month to a seasonally adjusted annual rate of 4.6 million.
Dr Yellen's early indication of a rate rise indicator surprised many investors, who had expected rates to remain low for a longer period of time.
That led to renewed fears that the end of easy money could negatively impact emerging economies that relied on foreign investors.
Last Updated at 19:22 GMT
The falls in Asian markets followed a broad sell off in US markets.
No locomotive
Peter Redward, of Redward Associates, says increasing US interest rates will have the same impact in Asia that they have had on other emerging economies.
"We're going to see the type of reaction we've seen in other emerging markets which means interest rates are probably going to climb as well," he told the BBC, adding that the Philippines might be the first Asian nation to raise rates.
Furthermore, he added that while increasing economic growth in the US might be good domestically, it might not have as strong an impact overseas.
"The issue for Asia is that the US isn't the locomotive for this region that it once was," he said.
"The rise of China and the relative decline of the US means that it just isn't going to pull the region forward like it has in the past."
On track
The decline in the benchmark Nikkei comes despite Bank of Japan (BOJ) governor Haruhiko Kuroda's comments on Wednesday that the country was on track to meet the bank's 2% inflation target.
The BOJ has been engaged in a massive stimulation effort to combat deflation and encourage spending.
Mr Kuroda said he was confident Japan's economy would continue to grow despite a planned tax increase, which is set to take effect on 1 April.
The country recently reported its smallest trade gap in nine months, after January saw a record surge in imports ahead of the tax changes.