Homebase and Argos owner Home Retail sees sales rise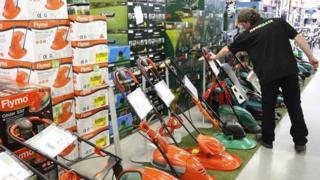 Argos and Homebase owner Home Retail has said it expects annual profits to be slightly ahead of market forecasts of £107m to £111m.
It follows strong sales growth in the last eight weeks of the year to 1 March.
Sales at Argos rose 5.2% to £526m at stores open more than a year, against market expectations of 1.8%.
Sales at DIY chain Homebase surged 9.3% to £203m - nearly three times City forecasts for a 3.4% increase.
Annual sales at Argos rose 3% to £4bn, while at Homebase, sales rose to £1.4bn - a 4.1% increase.
The sales figures mark the end of a successful first year in Home Retail's online-focused turnaround strategy after several years of falling profits.
Home Retail's plan aims to transform Argos, which brings in 70% of the group's revenue, from a catalogue firm to a digitally-led business.
It has also begun targeting higher sales from tablet computers and mobiles and is hoping to cash in on its easy in-store collection service.
Last year, Argos announced a "click and collect" deal with eBay, which would allow customers to buy goods on the online auction website and collect them from 150 Argos stores across the UK.
Home Retail's plan is to push Argos sales up 15% to £4.5bn by 2018. Homebase stores are also being revamped.
In January, the firm said it expected to achieve annual profits of £90m to £109m.
Online strategy
The sales improvement at Argos was driven by strong demand for electrical products, such as TVs and games consoles. Homebase sales were lifted by growing sales of "big ticket" items, including kitchens.
Internet sales for the full year represented 44% of total Argos sales, up from 42% a year earlier.
The group cautioned that it expected to increase provisions to compensate customers, following a review of the sale of Payment Protection Insurance (PPI) to £25m. It would not say what the total amount was, but added that the charge would be an exceptional item.
Shares in Home Retail, which in January named Argos boss John Walden as its new chief executive, rose 2% to 209.75p this morning and are up 58% on a year ago, valuing the business at about £1.7bn.
Terry Duddy, chief executive of Home Retail Group, said the positive sales performance concluded a good year for both Argos and Homebase.
But he added that despite signs of improving economic conditions, the group continued to plan for a "subdued consumer environment", while recognising that "digital technology, together with changes in consumer behaviour", had fundamentally changed the face of retailing.