Asian markets tumble on weak Chinese economic data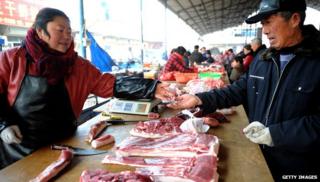 Asian shares fell on Monday after both China and Japan released disappointing economic data, worrying investors about a slowdown in the region.
Both Hong Kong's Hang Seng index and the Shanghai Composite fell by 2%, while Japan's benchmark Nikkei 225 closed down 1%.
On Monday, Japan revised down its 2013 growth estimates and reported a record deficit.
Over the weekend, China said exports plunged 18.1%, surprising analysts.
That data led to a broad Asian sell-off, with China's CSI 300 Index falling to its lowest since 2009.
Australian shares shed 1% of their value following the data release, dragged down by losses in mining and other resource stocks, which are heavily dependent on China's commodities demand.
BHP Billiton fell 3.2%, Rio Tinto dropped 4.6% and Fortescue Metals tumbled 10% in Sydney trading.
Concerns about China's economy also caused copper to drop to its lowest level in more than seven months.
China is the biggest buyer of the red metal, which is used both in electronics production and other manufacturing industries.
The price of Chinese steel and iron ore futures dipped about 6% on Monday after publication of Chinese export data.
Lower demand from the domestic construction industry has added to a slide in commodities prices.
Sluggish data
China also reported a rare $22.98bn trade deficit in February, compared with a surplus during the same period last year.
Some analysts speculated that the figures could be distorted because of the impact of the Chinese Lunar New Year holiday.
It also reported a slowdown in inflation, to 2% in February from 2.5% in January - the slowest rate in 13 months.
The sluggish economic data come as the Chinese government said during its annual meeting that it was targeting a growth rate of 7.5% in 2014.
However, China's finance minister Lou Jiwei later said that it would be acceptable if the government slightly missed this target.
"Whether GDP [gross domestic product] growth is to the left or to the right of 7.5%, that is not very important," said Mr Lou, according to Reuters.
He added that what was most important was job creation.
Separately, Japan revised its 2013 economic growth from 1% to 0.7%, and also reported its largest deficit since 1985.