Manufacturing growth in the eurozone eases in February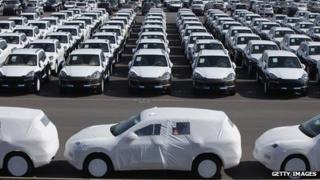 Manufacturing growth in the eurozone slowed for the first time in five months in February, a closely-watched survey has suggested.
The latest Markit's Eurozone Manufacturing Purchasing Managers' Index (PMI) dipped to 53.2 from 54.0 in January. A figure above 50 indicates expansion.
However, for the first time in almost three years output rose in the bloc's four biggest economies.
The Netherlands performed the best.
"The dip in the manufacturing PMI, its first fall for five months, is a disappointment and a reminder of the hesitant nature of the region's nascent recovery." said Chris Williamson, chief economist at Markit.
However, Mr Williamson emphasised that the overall reading was the "second-strongest" that it had seen for almost three years.
The biggest four economies of Germany, France, Spain and Italy all saw output rise.
And three countries - the Netherlands, Republic of Ireland and Spain all reported a faster rate of expansion compared to January.
Markit said all seven of the nations for which it had February data reported higher levels of production and new export orders.
"Policymakers will nonetheless be reassured that the...recovery is broadening out," added Mr Williamson.