Wal-Mart reports fall in quarterly profits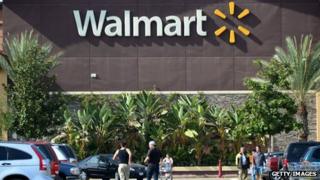 The world's largest retailer, Wal-Mart, has reported a 22% drop in quarterly profit and given a weaker-than-expected earnings forecast for the coming year.
Net income for the three months to 31 January fell to $4.4bn (£2.6bn) from $5.6bn a year earlier.
Wal-Mart said tough winter weather, cuts to government benefits and higher taxes contributed to the fall.
Wal-Mart's UK supermarket business, Asda, said like-for-like sales fell 0.1% in the final quarter of 2013.
Investment
Wal-Mart said reduced food-stamp benefits had been partly behind its lower profits, along with competition from heavy discounting during the holiday season.
Comparable sales at its US stores fell by 0.4% in the three-month period. Wal-Mart's total revenue for the quarter rose by 1.4% to $129.7bn.
Wal-Mart said it expected net sales this year would grow at the lower end of its earlier forecast of 3%-5%.
Its earnings forecasts for this year also fell short of analysts' forecasts. Wal-Mart expects profits to be between $5.10 and $5.45 per share, against expectations of about $5.54.
Chief executive Doug McMillon said he would "innovate to improve productivity" to keep prices low.
He added: "We will invest aggressively in e-commerce and increase our small store rollout in the US, as we have done in several other countries, to deliver value and convenience."
The retailer would keep focusing on providing "supercentres" and smaller stores closer to customers' homes, he said.
'Tough year'
In the UK, while Asda's underlying sales fell 0.1% in the final quarter of the year, the supermarket said they were up 0.5% over 2013 as a whole.
The UK's major supermarket chains struggled to boost sales over the Christmas period, coming under fierce competition from discount retailers such as Aldi and Lidl, and from more upmarket offerings from Waitrose and Marks & Spencer.
Asda's chief executive, Andy Clarke, said that 2013 had been a "tough year".
"There's little doubt that the UK retail market is undergoing significant and permanent structural change," he added.
"Though the economy is showing signs of recovery, it is still susceptible to shocks and the benefit is not yet being felt right across the country."