BNP Paribas profit hit by US sanctions probe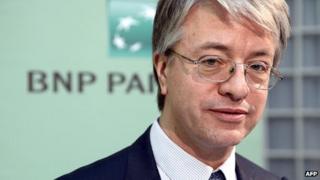 BNP Paribas has posted an unexpected fall in profit after it provisionally set aside $1.1bn (£662m) over an inquiry into a possible breach of US sanctions.
France's largest bank said fourth-quarter net income fell by 76% from a year earlier to 127m euros.
Analyst estimates were for a profit for more than one billion euros.
BNP's earnings were also hit by restructuring costs and a write down on the value of its Italian unit BNL.
In a statement, BNP chief executive Jean-Laurent Bonnafé said the bank had "a rock-solid balance sheet, high solvency and very large liquidity reserves".
Last Updated at 18 Dec 2017, 14:31 GMT
*Chart shows local time
price
change
%
63.47

+

+0.55

+

+0.87
"BNP Paribas showed good operating resilience in a lacklustre economic environment in Europe in 2013," he said.
"This result was obtained thanks to the overall resilience of revenues, the ongoing containment of operating expenses and a moderate cost of risk, despite the economic environment."
BNP said the hefty legal provision was "related to the retrospective review of US dollar payments involving parties subject to US economic sanctions".
The move comes after rival lenders including Standard Chartered paid millions of dollars to settle allegations that they violated US sanctions by conducting transactions with blacklisted countries such as Iran and Libya.