Restrained water bill rises welcomed by watchdog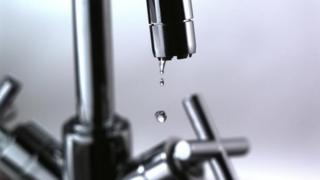 Below-inflation price increases by several water companies have been welcomed by a consumer watchdog.
But some rises will be above inflation, and the average water bill in England and Wales will rise by 2%, or £8, to £393 in April, regulator Ofwat says.
The Consumer Council for Water (CCW), which represents customers, welcomed the move by two companies to reduce bills for customers.
These were South West Water and Sembcorp Bournemouth Water.
Their cuts of 3% and 2.5% respectively, compared with the previous year, were brought forward from price cuts that had been planned from between 2015 and 2020.
Six companies - Anglian Water, Southern Water, Wessex Water, Yorkshire Water, Affinity Water and United Utilities - decided not to enforce the full price rises that they were entitled to.
Thames Water will increase its bill by an average of 3.4%, or £12. This was the maximum rise allowed and comes after the regulator turned down a request from Thames to increase bills by 8%.
Bristol Water and Dee Valley Water have also raised water-only bills by more than the inflation rate.
"While we are pleased some water companies have taken steps to curb bill increases, the vast majority of customers will still see an actual increase in their water bill at a time when many face difficult financial circumstances," said Dame Yve Buckland, who chairs the CCW.
Cathryn Ross, chief executive of regulator Ofwat, said: "It is our job to make sure customers are getting a fair deal. We know that customers are having a tough time.
"In the last five years bills have risen with inflation, yet we are well aware customers' incomes have not. We are pleased that a number of companies have heard our call, listened to their customers, and taken action. Ten million households will now benefit from lower than expected bills this April."
The regulator is now considering applications made by the companies for the pricing structures for the next five years.