Bombardier wins £1bn Crossrail deal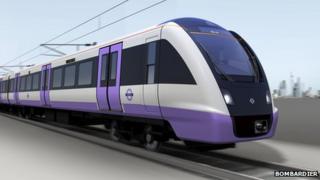 Bombardier has won a £1bn contract to provide trains for the London Crossrail project, the government has announced.
The company will provide 65 trains for the Crossrail service, which is set to open in 2018.
The trains will be manufactured and assembled at Bombardier's plant in Derby.
The Department for Transport said Bombardier's contract would support 760 manufacturing jobs and 80 apprenticeships.
It also said that about 74% of the amount spent on the contract would stay in the UK economy.
Canada's Bombardier beat Japan's Hitachi and Spain's CAF to secure the deal.
'Great boost'
The Crossrail system is due to run from Maidenhead and Heathrow Airport in the west, to Abbey Wood and Shenfield in the east.
It will aim to provide faster journey times and up to 24 trains per hour between Paddington and Whitechapel during the peak.
Business Secretary Vince Cable said the decision gave the Midlands a "great boost" and represented a "real vote of confidence in British manufacturing".
He said: "The government has been working hard with industry to support the UK rail supply chain to maximise growth opportunities through contracts like this."
'Relief'
The government said the network will boost London's rail capacity by 10%.
It also estimated the new service would support 55,000 full-time jobs around the country.
Bombardier lost out to German firm Siemens to build new train carriages for the London-based Thameslink route in 2011.
Unite national officer Julia Long said: "This is great news for the workforce at Bombardier and for Derby.
"After the disastrous handling of the Thameslink contract this news must come as a massive relief for the skilled men and women at Bombardier."
She said the jobs would be "valuable" for young people wanting a future in manufacturing, and that the decision was a "tribute to the skills and dedication of the Derbyshire workforce".
Each new train will be 200 metres long and be able to take up to 1,500 passengers. The trains will also be air-conditioned, with linked, walk-through carriages, and provide live travel information.
Mayor of London Boris Johnson said the trains would "revolutionise" rail travel in the capital and lead to economic growth in Derby and across the UK.
He said: "With a firm on board to deliver a fleet of 21st century trains and the tunnelling more than halfway complete, we're on track to deliver a truly world-class railway for the capital."
Bombardier has built, or has on order, 60% of the UK's rail fleet.