China soy sauce firm bucks market trend in trading debut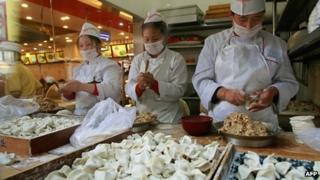 China's largest cooking wine and soy sauce maker Honworld has surged in its Hong Kong trading debut, bucking the overall downward market trend.
Shares rose by as much as 25% after the firm raised $115m (£69m) in its initial public offering (IPO).
The listing had been significantly oversubscribed by retail investors.
In comparison, the benchmark Hang Seng index opened flat at 0.2% as global markets continue to struggle with concerns over emerging market growth.
Honworld's strong performance showed people were betting on China's consumer-orientated companies, analysts said.
Honworld makes the popular "Lao Heng He" brand of cooking wine, vinegar, and soy sauce.
Aside from being staple ingredients in Chinese cooking, they are also used as a dipping sauce for popular snacks such as "jiaozi", or dumplings.
Coal debut
China's third-biggest coal producer also made its trading debut in Shanghai.
Shares of Shaanxi Coal jumped as much as 44% in early trading, the maximum allowed under new listing rules.
The state-owned company had raised four billion yuan ($661m; £398m) in mainland China's biggest listing since the IPO market was reopened last month.
It plans to use the money raised to increase coal production and build new transport facilities.
However, its IPO had been reduced in size by about 60% after the country's securities regulator clamped down on how share offerings are priced.
Listing bonanza
Chinese authorities have imposed a more than year-long moratorium on public share sales in an attempt to clean up the market of fraud and misconduct.
This caused a backlog of Chinese companies looking to raise money from the public markets.
Out of the firms that have listed in recent weeks, many logged positive performances as investors bought into the new offerings.
These include China's biggest funeral services provider Fu Shou Yuan International Group and night club manager Magnum Entertainment Group.
Both saw their share prices soar by more than 80% on their first day of trading.
Analysts say investors have been attracted by their unique growth prospects.
"The business is quite attractive to the retail investor," said Jasper Chan from retail brokerage Phillip Securities. "There aren't a lot of peers in the market and that's why people flock to these companies."