RSA Insurance report says financial troubles were 'isolated'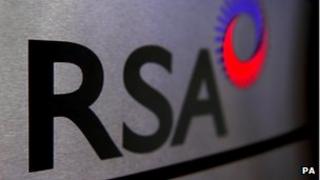 An independent report into problems at RSA Insurance has found "inappropriate collaboration" among managers that led to a £200m hole in its finances.
But RSA, owner of the More Than brand, was the victim of an isolated incident linked to its Irish operations, the report by PricewaterhouseCoopers said.
The financial problems led to profit warnings last year, and the resignation of chief executive Simon Lee.
Two executives in the Ireland division were dismissed on Wednesday, RSA said.
These were the finance chief, Rory O'Connor, and the division's claims director, Peter Burke.
Irish chief executive Philip Smith had already resigned after being suspended.
PwC found evidence suggesting individuals deliberately circumvented some governance controls.
RSA executive chairman Martin Scicluna said: "The issues which emerged in our Irish business in 2013 were completely unacceptable and I have made it my personal priority to ensure that this never happens again.
"We acknowledge that there are lessons to be learnt and we are tightening elements of our control and financial framework in response to these events."
A routine internal audit of the Ireland division flagged up problems in November. RSA said at the time that this would result in a £70m dent in profits, but later said the amount set aside had increased by £130m to pay for a surge in motor insurance injury claims.
Meanwhile, RSA also said on Thursday that the recent flooding, combined with severe weather in Canada, would further hit 2013 profit figures.