Trader pleads not guilty in Libor rigging case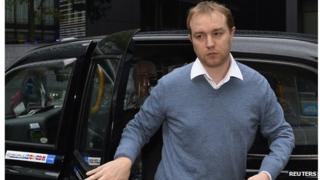 A former UBS and Citigroup trader has pleaded not guilty to eight charges related to the manipulation of an important benchmark interest rate.
Tom Hayes is charged with conspiring with staff at other banks to rig Libor from August 2006 to September 2010.
Libor is an important benchmark rate used in pricing trillions of dollars of contracts, including mortgages.
Two other defendants, former brokers Terry Farr and James Gilmour, denied separate charges at the London hearing.
The three men are the first to face trial in a broader investigation into the manipulation of Libor.
Regulators around the world are looking into allegations that banks and brokers colluded to profit from fixing the rate.
Earlier this month, European Union authorities fined eight banks a total of 1.7bn euros (£1.4bn) for forming illegal cartels to rig interest rates.
Last year, Barclays was fined £290m ($454m) by British and US regulators for manipulation of Libor and Euribor interbank rates between 2005 and 2009.
The Dutch group Rabobank and broker ICAP have also been fined by regulators over Libor fixing.