Boeing in record $10bn share buyback and raises dividend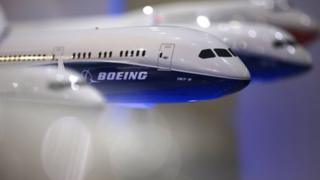 Boeing has authorised a $10bn (£6.1bn) buyback of its own shares, the largest in the company's history, in addition to raising its quarterly dividend.
Chicago-based Boeing's dividend will increase by about 50% to 73 cents a share, to be paid in March next year.
The company is looking to reward its shareholders as its cash flow improves from the higher sales and production of jetliners such as the 787 Dreamliner.
Boeing's previous buyback record was $7bn in 2007, with $800m still unused.
The company said the new repurchase program reflects its "positive outlook".
Boeing chief executive Jim McNerney said in a statement: "These actions reflect sustained, strong operational performance by our businesses, increasing cash flow and our confidence in the future,"
Boeing shares rose by about 2% in after-market trading in New York after the announcement.
Overall, the company's stock price has risen by about 79% this year, outperforming both its benchmark Dow Jones Industrial Average and the Standard & Poor's 500 Index.