Food prices in an independent Scotland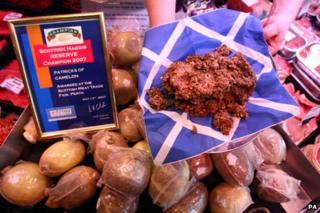 It is a statement of the bloomin' obvious that businesses behave differently in different countries.
It is equally obvious that if Scotland becomes a separate nation, businesses that straddle the borders of Scotland and the rest of the UK will - over time - assess questions such as where they invest and how they price on the basis of national conditions.
So far, so uncontentious.
The problem is that almost anything that a company says in public about the nitty gritty of all this becomes stunningly contentious - because emotions in the political class are running high about the merits or disadvantages of Scottish independence.
As an illustration, here is what the boss of a very big FTSE company told me about a recent meeting with representatives of the Scottish government:
"I made the obvious point that we cannot make investment decisions in Scotland at the moment because of the uncertainty about the tax regime. The mood of the meeting immediately became very dark, they became very aggressive."
I repeat this not because I have any particular sympathy for this business. It is big enough and brassy enough to look after itself.
But it is a refrain I hear from lots of companies, that they are worried about sticking their heads above the parapet, even to state merely what they think are the basic facts of what independence would mean for them - for fear of being accused of tendentiously trying to influence the debate.
For the avoidance of doubt, the point here is that the basic facts - as seen by these big stock-market-listed companies, I stress - would frequently pose more questions to those in favour of independence than those against.
There is a resonant example of this in today's FT, which reports that bosses of three of the four biggest supermarket chains are warning that food prices in an independent Scotland might well be higher than in the rest of the UK.
It is striking that none of the supermarket groups cited had the confidence to say this on the record, in the name of their respective individual businesses. They were hiding in the herd, presumably hoping that Alex Salmond will be less cross with them.
But, while they might not quite have the courage of their convictions, it is what they believe.
Here is the logic, according to the chief executive of one of them.
Scotland has a large dispersed population, so transport costs - logistics - tend to be higher in Scotland than in England.
Scottish people eat relatively less fresh food than the English, and fresh food is much more expensive to transport and store (the logistics of supplying fresh food are highest). So it is relatively more costly to provide fresh food in Scotland.
Scots eat relatively more branded products, where profit margins for the supermarket chains are slimmer.
The biggest Scottish supermarkets, those with a rateable value of more than £300,000, and which sell both cigarettes and alcohol, pay a 28% "health" increment on business rates - which costs them collectively around £30m a year.
There are national Scottish restrictions on how they can market alcohol.
All of these represent current national differences between the costs of doing business in Scotland and in England for the supermarkets.
But at the moment, the big four supermarket groups - Tesco, Sainsbury, Asda, Wm Morrison - absorb these differential costs in a pan-UK pricing policy. They take on the chin that the intrinsic profitability of doing business in Scotland is less than for England.
Which is reasonable, because there are some cost advantages of doing so. It would be expensive to change IT systems, marketing, point-of-sale literature and advertising to facilitate differential pricing in Scotland and England.
So if Scotland were to vote for independence, it is very unlikely that food prices in Scotland would rise immediately.
But to return to statements of the bleedin' obvious, over time - and as it became settled in the minds of the boards of these companies that Scotland had become a foreign country - these differential costs would probably be manifested in differential prices.
To be clear, this would not necessarily be to the disadvantage of the Scots. If, for example, a future Scottish government decided to cut business rates relative to their level in England, that might lead to lower food prices in Scotland.
However, the supermarket groups tell me that the Scottish government's promise to cut the headline rate of corporation tax by up to three percentage points would be of little benefit to them. The boss of one says the health increment on the rates currently costs them more than four times what that cut in corporation tax would shave off their tax bills.
What would trigger a sudden and immediate implementation of differential pricing? Any decision to ditch sterling would do so. Which is presumably one important reason why Alex Salmond is so insistent that the pound will be retained.