'Why are you selling T-shirts with my face on them?'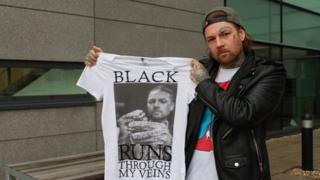 A tattooist from Leeds has complained after a T-shirt with his face on appeared on sale in H&M.
Richard Elsby, who said the experience was "a bit odd", learned about the shirt when friends sent him texts.
He visited the Manchester branch to confirm it was not a joke and discovered the shirt was also on sale in the Netherlands, France and the US.
H&M said it had licensed the image correctly from Getty Images and had seen a model release form.
Mr Elsby, who performs as a rapper under the pseudonym Gold Frank, told BBC Radio 4's You and Yours: "The photograph was actually an image I had commissioned for our tattoo website from a photographer friend of mine.
"My public profile is very low - I'm not exactly famous but everything else in the collection was famous rap stars. To see myself next to Snoop Dogg and Nas was a weird one."
He contacted H&M to query the sale and ask where the image had come from, and the company was able to demonstrate that it had paid for the picture and could use it on licence.
The photographer who took the photo told BBC Radio Leeds he had taken it several years ago but couldn't remember what happened with regard to the contract.
David Partner of the Association of Photographers described it as a complex matter.
He said: "It's an issue between Richard and the photographer as the copyright in the photograph is vested in the photographer unless that's otherwise agreed."
Mr Elsby said: "It's frustrating because I'm at a point where I can't really do a lot about it.
"It's a really difficult one".