Japan in biggest annual exports rise for three years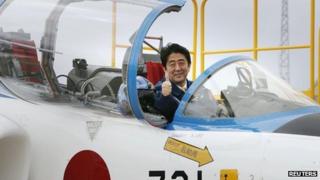 Japan's exports have seen their biggest annual rise for three years.
Exports rose 18.6% to 6.1 trillion yen ($61bn; £38bn) in the year to October, largely thanks to more car shipments, its ministry of finance said.
This was above analysts' forecasts of about 16.5%.
A weak yen and an improving global economy has seen oversees demand pick up, but despite this and Prime Minister Shinzo Abe's looser monetary policies, Japan's economy remains fragile.
The yen has fallen about 14% against its US dollar value in 2013, making Japanese goods cheaper for foreigners to buy.
Car exports rose 31.3% year-on-year, while the volume of overall exports to the US and European Union grew 5.3% and 8% respectively.
Deficit
"US private-sector demand remains strong and European economies appear to be bottoming out," said Takeshi Minami, chief economist at Norinchukin Research Institute in Tokyo.
"If advanced economies recover, Japanese exports can rise more," he added.
Despite the rise in exports, the country's trade deficit - the amount by which the cost of a country's imports exceeds the value of its exports - nearly doubled to 1.09 trillion yen in October, compared with a year ago.
This makes it the 16th month on the trot that Japan has been in deficit.
The main cause has been the sharp rise in energy imports needed after the 2011 Fukushima nuclear crisis knocked out a third of the country's power.
The weak yen has also made imports more expensive.
The value of imports leapt 26.1% to 7.2 trillion yen from a year ago, the figures showed.
Shinzo Abe's high government spending and monetary easing policies - dubbed Abenomics - are aimed at breathing new life into the world's third-largest largest economy, which has been struggling with deflation for years.
But last week, figures showed that economic growth in the country slowed to 0.5% during the July-to-September period, down from 0.9% in the previous quarter.