Npower sells some subsidiaries to Telecom Plus for £218m
20 November 2013

From the section

Business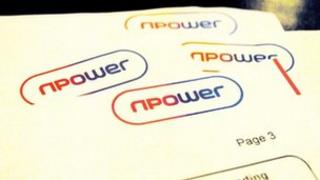 The energy firm Npower is selling some subsidiaries to Telecom Plus, which trades as Utility Warehouse, for £218m.
Telecom Plus will officially take over contracts to supply gas and electricity to 770,000 accounts as part of the deal.
Customers are being told they will see no change to services.
If the sale is approved by Telecom Plus shareholders and the Office of Fair Trading, Npower said it expected to complete the sale by January next year.
Telecom Plus said the deal would improve energy margins by 4.25% and allow the company to offer more competitive tariffs.
It ensures a 20-year gas and electricity contract with Npower. Telecom Plus provides gas, electricity, fixed-line telephone, broadband internet and mobile services.
'Big seven'
Shares in Telecom Plus were up 15% on the news, making it one of the top percentage gainers on the London Stock Exchange.
Npower boss Paul Massara said Britain was "well on its way to having a big seven rather than a big six".
He said: "In one move we have helped to create the biggest independent competitor in Britain's household energy supply market."
"This is good for competition and good for consumer choice."
Telecom Plus's executive chairman, Charles Wigoder, said: "This is a transformational deal for the company, delivering significant earnings enhancement, a revised and improved twenty year supply agreement with Npower and the opportunity for us to provide even more competitive energy prices to our customers in future."
Since the start of October, more than 150,000 people have switched themselves to smaller energy firms amid a spate of price rises from five of the "big six" energy and gas firms and political debate about how the firms set prices.
Small energy firms account for about 3% of the market.
Neil Shah, analyst at Edison Investment Research, said the acquisition was a major strategic move for Telecom Plus.
He said: "With some reinvestment in price, the company is now even better placed to take advantage of consumer discontent around the big six."