News Corp reports fall in revenues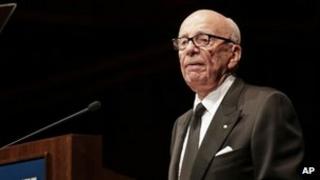 Rupert Murdoch's News Corp has reported a modest profit for the three months to the end of September, but also saw falling revenues from advertising.
The publisher of the Times and the Wall Street Journal said net income for the quarter was $27m (£16.9m).
But revenues came in at $2.07bn - lower than analysts expected, resulting from a decline in newspaper advertising.
The results are the first since News Corp was split into two separate companies earlier this year.
The publishing business is now separate from the much more profitable entertainment business, which includes a film studio and television channels under the name 21st Century Fox.
Last week that business reported a quarterly profit of $1.3bn.
Mr Murdoch remains in control of both businesses despite the split.
News Corp includes book publisher HarperCollins alongside newspaper titles that include the Wall Street Journal and the New York Post in the US and the Times and the Sun in the UK.
Commenting on the results, News Corp's chief executive Robert Thompson was keen to stress that newspaper titles were in the middle of transforming themselves into digital content providers.
Declines in Australia
"Our first quarter... was the beginning of a journey in the digital development of the company," he said.
"We have been consistently cost-conscious and are transforming our publishing operations longer-term into multi-platform businesses.
News Corp's newspapers in Australia, where Mr Murdoch was born, accounted for much of the firm's fall in revenue, posting a 22% decline in sales.
The firm's papers in Australia include the Daily Telegraph, The Australian and the Herald Sun.
Analysts said the weakness in the firm's Australian newspaper segment was well known but that the fall in income was worse than expected.