Co-op could phase out Labour support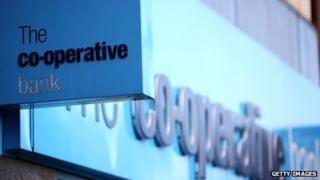 When Co-op Bank collapsed into losses, and was instructed by the regulator to raise £1.5bn of new capital as a protection against future shocks, most attention was inevitably focused on the pain being experienced by the bank's big creditors.
But the damage from the banking debacle extends further than losses for those who own £1.3bn of the bank's bonds and preference shares.
There is actual and potential hurt for the bank's owner, the Co-operative Group, its seven million members and the institutions that depend on the support of the Co-op, including the Labour Party.
First, and perhaps obviously, Co-op cannot pay a dividend to members this year, because the dividend is a share of profits, and Co-op Bank's losses have tipped the entire group into losses: no profits means no dividend.
Just in the first half of the year, Co-op Group incurred a loss of £559m, and it will also be seriously in the red for the year as a whole.
That will deprive Co-op members of the £50m to £70m they've received in recent years.
Fairly generous
Co-op Group will offer them money-off vouchers in the run up to Christmas. These sound fairly generous, a rolling programme of 10 per cent off bills between mid-November and Christmas.
But such loyalty discounts are bound to be offered by all the big supermarket groups. There is nothing terribly Co-op-ish about in-store money off deals.
Also, if there's no dividend, that puts at risk the millions Co-op members pay to local charities by opting to transfer their dividend entitlement to Co-op Group's Community Fund: last year good causes received £3.2m in this way.
Well, Co-op Group has decided that the incompetence of its bank should not impose hardship on these charities, so it will continue to pay the £3.2m or so out of group resources.
Then there is the wholly separate political donations that Co-op Group makes, which were £1.2m last year and which supports the Co-operative Party - which in turn is affiliated to the Labour Party.
This £1.2m can be seen as largely, but not wholly, supporting Labour - especially 30-ish MPs who call themselves Labour Co-operative MPs. They include the shadow chancellor, Ed Balls.
For this year, the political contribution has been reduced to £1m.
Members surveyed
And I am told it could disappear altogether - in time.
The reason is that Co-op Group is embarking on a detailed survey of its 7m members to find out what they expect of the Co-op, and how it should change to meet their needs.
Euan Sutherland, the group's chief executive, tells me that they will be asked whether it is appropriate that their money should continue to be used to support Labour.
He concedes it is by no means certain they will say yes.
Labour's leader, Ed Miliband, cannot really complain that Co-op Group is asking the question, since he has already announced plans for union members to opt in to providing funds to his party, rather than having to opt out, as at present.
But if that million quid a year were to become de minimis, that would intensify a funding squeeze for Labour - which is already squeezing the pips till they squeak, as a former Labour chancellor might put it.