Parents choosing high price tag toys, says NPD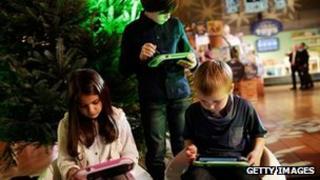 Parents are buying more toys with a price tag of over £50 as electronic devices continue to be a hit with youngsters, analysts suggest.
Sales of these more expensive toys have grown by 6% in the year to mid-October compared with the same period a year earlier, the NPD Group said.
This came despite a 1% drop in total UK toy sales over the same period.
The figures were published as the industry revealed its predictions for the most popular toys for Christmas.
Pre-school tablet devices - The InnoTab 3S and the LeapPad Ultra - have made the annual Dream Toys list released by the UK Toy Retailers' Association (TRA).
They form part of an £80m market in children's tablets that will reach more than one million sales by the end of the year, according to Frederique Tutt, a global toy industry analyst at NPD.
That means greater costs for parents, despite a financial squeeze for many families.
"In the UK, as in the rest of Europe, people are influenced by a difficult economic climate. Impulse toy-buying for instance is experiencing significant declines," said Ms Tutt.
"However, in this environment of cautious consumerism, our research shows that items with high price tags sell very well, especially good quality brands and innovative concepts."
The leading toys this year have been named by the TRA as:
City Coast Guard, by Lego
Doc McStuffins Doctor's Bag Playset, by Flair
Flying Fairy by Flutterbye, by Spin Master Toys
Furby Boom!, by Hasbro
InnoTab 3S, by Vtech Electronics
LeapPad Ultra, by Leapfrog Toys
Monopoly Empire, by Hasbro
Monster High 13 Wishes Doll, by Mattel
Nerf N-Strike Elite RapidStrike CS-18, by Hasbro
Robo Fishbowl, by Zuru-Geemac
Teksta Robotic Puppy, by Character Options
Toy sales have fallen in general this year, according to Ms Tutt, owing to a combination of post-Olympics sales declines, poor outdoor toy sales during bad weather in the spring, and the absence of a summer film blockbuster with linked toys.