House prices continue to rise, says Halifax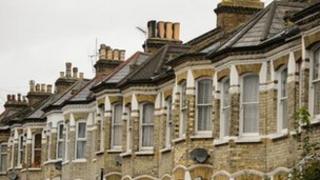 Increased demand for homes has led to the ninth consecutive monthly increase in house prices, according to the Halifax.
The mortgage lender said that property prices were up by 0.7% in October compared with the previous month and 6.9% annually.
This had increased the value of the average home to £171,991, it added.
However, the lender said that prices and sales had not reached the levels seen at the height of the boom in 2007.
The Halifax is part of Lloyds Banking Group.
Buyer interest
The figures, which are drawn from the Halifax's own lending data, found that house prices were 1.6% higher in the last three months than the previous quarter.
The lender said that there had been an increase in demand from potential buyers which had increased activity in the housing market, and had put an "upward pressure" on prices.
"Low interest rates, and higher consumer confidence supported by the increasing evidence that a sustainable economic recovery may now be underway, are helping to increase housing demand," said Martin Ellis, housing economist at the Halifax.
He added that sellers were showing signs of returning to the market, which could increase the availability of properties in the coming months.
House builders have also reported more activity, from extremely low levels of construction during the financial crisis.
Builder Persimmon said on Wednesday that it had sold more than 3,000 homes under the first phase of the government's Help to Buy equity loan scheme, which was launched in April.
The second phase of the Help to Buy scheme has raised fears of a UK housing bubble.
This concern was echoed when, a week ago, the Nationwide Building Society said prices across the UK were 5.8% higher than a year ago.
However, the Halifax said that prices and activity remained below the peak of 2006-07. Meanwhile estate agents have said the bubble warning is misplaced.
"In many areas of the UK, as the Halifax reminds us, house prices remain significantly below their 2007 peak. In some areas, they're still falling. For anyone inside the M25, this is easily forgotten," said Joseph Murrock of estate agent Wesold.co.uk.
"London is at risk of overheating, few can realistically deny that, but what is happening in the capital is hugely distorting the image of the broader UK market."