Toyota raises full year profit forecast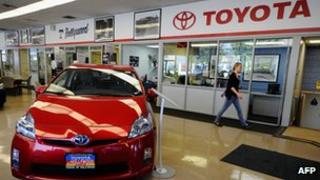 The world's biggest carmaker, Toyota, has raised its profit forecast as the yen's weakness and cost-cutting measures helped lift its earnings.
It now expects to make a net profit of 1.67tn yen ($16.9bn; £10.5bn) in the financial year to 31 March 2014, up from an earlier forecast of 1.48tn yen.
Toyota upped the forecast as it reported a net profit of 1tn yen for the six months to the end of September.
The results are in contrast with Nissan which cut its profit outlook last week.
Toyota said it expects to sell 9.1 million vehicles in the current financial year and generate a revenue of 25tn yen during the period.
Yen factor
Japanese carmakers, including Toyota, rely heavily on sales in foreign markets. As a result, any fluctuation in the currency markets has an impact on their profitability.
Over the past year Japanese carmakers have benefited from the decline in the yen's value - which makes their cars more affordable for foreign buyers and also boosts their profits when they repatriate their foreign earnings back home.
The Japanese currency had fallen nearly 25% against the US dollar since November last year after the new government unveiled a series of aggressive policies aimed at spurring Japan's economy.
Toyota said the fluctuation on the currency resulted in an increase of 540bn yen in its operating profit during the April-to-September period.
It made an operating profit of 1.25tn yen during the period compared with 694bn yen last year.
"In addition to the impact of the weaker yen, operating income increased due to our efforts with our suppliers and distributors for profit improvement through cost reduction and marketing activities, such as enhancement of the model mix," said Nobuyori Kodaira, an executive vice president with Toyota.
Recall woes
Toyota has staged a remarkable recovery over the past two years after its business was impacted by the earthquake and tsunami that hit Japan in March 2011.
It has since reclaimed the top spot as the world's biggest carmaker from US rival General Motors.
Its sales in the US - its biggest market - have also been on the rise, helped in part by an overall recovery in the US car market.
But a spate of recalls have hampered its recovery.
Toyota has called back more than 20 million vehicles over the past two years for a variety of problems.
The recalls have been mostly voluntary, and there have been no major crashes involved, but analysts have warned of their negative impact on Toyota's reputation.